Creativity Portals: Passages to Self Love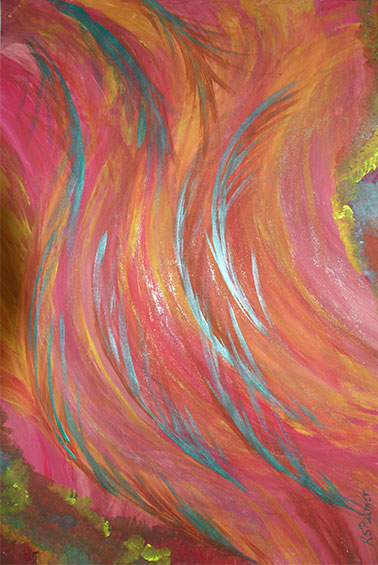 There are so many gates we can choose to enter to find joy, love, peace, laughter, happiness. How often do we wait for those things to happen to us? Or even more difficult or perhaps frustrating, is waiting for something or someone else to provide it for us? What if we could volitionally step into those gates, those passages, and reconnect and re-member our magnificent Self? You know, like on purpose?! How cool would that be? I know, right?!
You are in charge of your joy. You are in charge of your happiness. You are in charge of loving yourself! Do you see the pattern here? How many of you have given that power away, hoping that someone else (or something else) will give them to you. How many "if only's" are you waiting for? If only I was thin… if only I was rich,... if only I could win the lottery,... if only I had the perfect partner… if only I had a partner at all… if only I was by myself… if only I hadn't made that mistake… if only all my bills were paid… if only I had a better car… if only, if only, if only...
During this weekend workshop, we will explore many of these gates. You may discover something new. You may remember something you haven't felt or experienced in a long time.
We will enter expressive intuitive gates, including working with clay, doodling, movement, music, journaling, meditation, ritual, and adornment.
In this experiential workshop we will:
Explore the freedom and innocence of expressive arts.
Develop self trust and own our experiences.
Bring awareness that experiences like happiness, joy and love are "inside" jobs. (That would be a good tool in the "I love myself" toolbox, don't you think?)
Practice entering states of joy, love, compassion for ourselves and others.
Practice receiving and being open to love and healing.
Play, laugh, be silly, and have fun! (For some of you, that might be the most vulnerable experience of all!)
Have the opportunity to be witnessed as the magnificent, miraculous, unique beings we are.
My heart just bursts open at the opportunity to explore these things with you.
Will you join, me? Go ahead… awaken your magnificent!

Dates:
Friday, March 24th, 2017, 7:00 pm - 9:00 pm
Saturday, March 25th, 2017, 10:00 am - 7:00 pm
Sunday, March 26th, 2017, 10:00 am - 4:00 pm
Price:
$245 per person. Includes all materials. $100 Non-refundable, non-transferable deposit is required to hold your seat. Final payment will be due March 11, 2017.
Location:
Artemystic Studios
Henderson, NV
SEATS ARE LIMITED at this time..